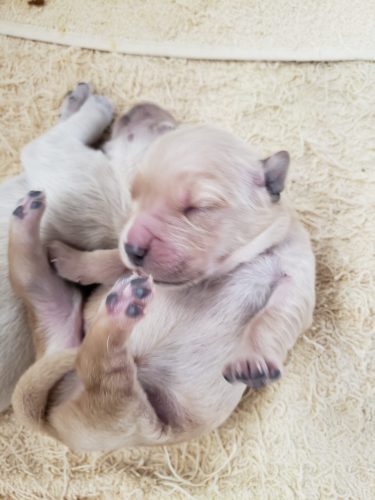 Sire; Gemstar's Whiskey And Rye  x  Dam; Gemstar's Moorning Rain
k9data.com/pedigree.asp?ID=1293909
The Rye/Adeen litter is here! 12 beautiful babies! I currently have availability for females in this litter.  DOB is 5-30-23. These puppies will be 8 weeks old on July 25th 2023.
This is an exceptional litter for those dog parents wishing to do therapy work. They will have a nice calm nature as do their parents and grandparents.
Other litters from the past.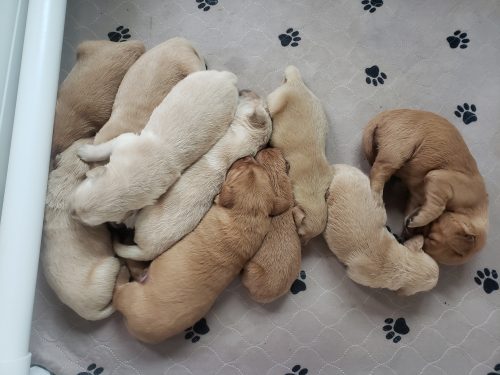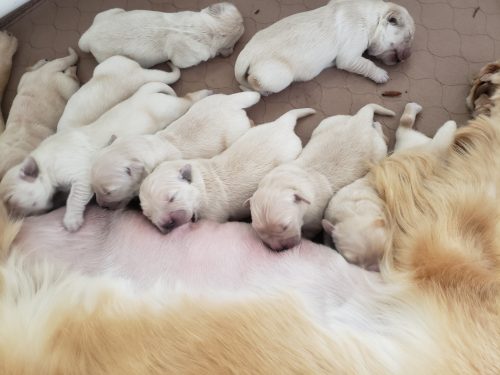 If you are interested in puppies from this one of my future litters,  I strongly suggest submitting the Puppy Purchase Application to even get on the list. I do review the PPA and chat on the phone as part of the interview process.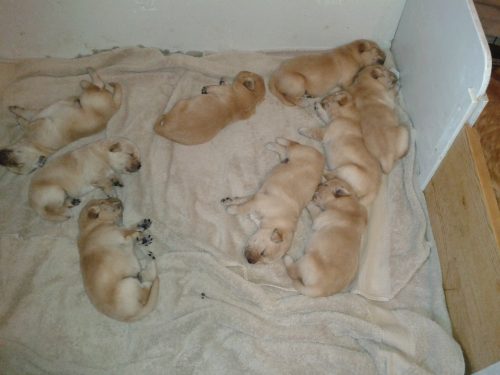 Updated  June 2023
Please call Beth at 585-937-6963 for more information!
All of my dogs are OFA hip and elbow cleared (Only a few with OFA prelims under 2, any of these are followed with permanent OFA clearances). All are Board Certified eye/heart clear.  All are DNA tested for Ichthyosis 2, Ichthyosis 1, PRA 1 and 2….AND many additional tests as the GRCA recommends .(Please note that DNA testing is something responsible breeders do to avoid reproducing issues that will affect a puppy AND this really is more for breeders to make a better breeding decision,   A "carrier" should not be bred to a "carrier", but a carrier bred to a clear means your puppy is "safe").  This information is provided in the puppy folder however it is provided PRIOR to committing to a litter.. Eye clearances are updated yearly.
Current Eye and Heart clearances are now being submitted to the OFA  database,
OFA is a registry/database only and NOT a clearance for Cardiology, Ophthalmology, and DNA.
To be ON my list you must fill out the Puppy Purchase Application Questionnaire. Once emailed to me it has a date stamp. I then review them coming in, and re-review once the girls come in season to match the family to an appropriate litter.
bgemstar@aol.com
585-937-6963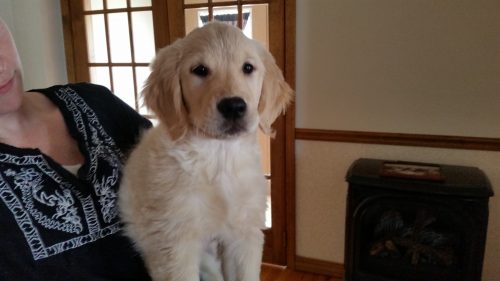 *****************************************************************************
********************************************************************************************************************************
All pups are required to go through 2 FULL courses of obedience training. Training assists the owner with setting a tone of respect within the family "pack". The socialization and manners help the pup become a better family member, neighbor, and visitor!     If you cannot/will not attend obedience courses I likely will not have a puppy for you. In home training is useful but provides ZERO socialization. Professional trainers will guide you through minor bumps often seeing an issue before it becomes a problem.
Please keep in mind, any breeding has date variables. Females can "whelp" (give birth) any time from day 59 from their first breeding date up to 63 days from their last breeding date, with most breedings covering up to a week of days. Approximate due dates listed are the first possible due date (day 59).
Not all breedings guarantee puppies or an even number of sexes… litters range in size from 1 to 13 with an average of 6-8. I generally do ultrasounds to confirm pregnancy however the number of sexes or number of puppies cannot be determined. Occasionally I will x-ray the pregnant mom if I have concerns about litter size…either very small (1 or 2) or very large (10 plus) to assist with determining the safest whelping possibilities. Even then counting is not absolute.
I ask for an email to tell me about your family dynamics, needs, schedule….what you want in a puppy for your family….we interview each other…. Every conversation we have is another "level" of the interview process. I realize this is not always possible to meet everyone, but preferable.  It is important to determine if the size, bounciness, energy, hair, etc. is a good match. I also listen to what your lifestyle is and try to match your family to the appropriate litter. I take a limited number of sex specific deposits per litter. Generally no more than 3 for males and 3 for females.
I reserve the right to guide you in selection, I reserve the right based upon years of experience, knowledge of the pedigrees, knowing my dogs personalities….to say to you…this is NOT the puppy for your family!
Waiting until the litter is born will not allow you a puppy. Nice quality puppies sell very quickly and generally there are many more purchasers than puppies.
************************************************************************
We are a
CLOSED KENNEL!!!
What this means is we are private, not open to public foot traffic and protect the babies in our care. Visits are not available when puppies are infants due to many viruses and parasites that can easily be tracked through. If you are interested in a particular litter, pictures can be texted at a moments notice, clearance info either emailed or texted. This is in the best interests of the litters.
Scheduled visits are great and very welcome!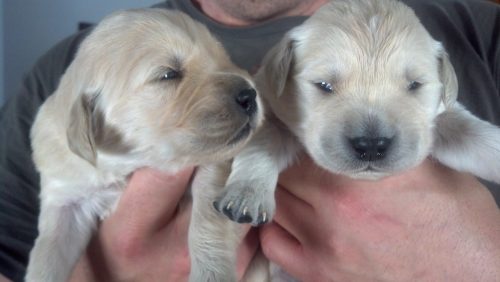 Once you have a deposit on a litter, you join the family within that litter. At birth I create a Text Group and newborn pictures are sent. I continue to send pictures and videos so you can be part of their infancy and watch them grow, I have found this to be great fun and many families stay in touch through training to keep the littermate connection alive! So even though you cannot come in to shmooze the pups you are still here and able to see their landmarks like opening eyes, hearing, toddling and first play.
Contact via email is BGemstar@aol.com