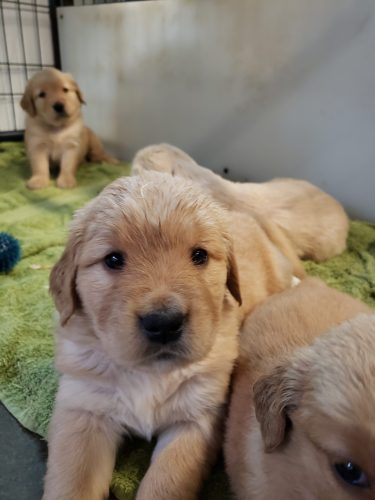 If you are interested in purchasing one of the Gemstar Golden Retriever puppies I would like you to send me an email at  Bgemstar@aol.com.
Please copy and paste this into am email back to me, answer each question as well as you can. I will print this out for future reference. Please be as thorough as you can be. These questions are asked first to find if you are a good match for my puppies or a specific litter.
#1. Have you contacted me (Breeder) in the past for a puppy? If so, did you purchase one from me (Breeder) and when? Who were the sire and dam? Where is that dog now?
#2. Have you owned a Golden Retriever in the past? If so, when? If not purchased from me who did you purchase that dog from and where is it now? Have you owned any other dogs? Were they spayed/neutered? What other animals do you currently own? (breed, age, sex, species)
#3. Are you interested in breeding this puppy? Have you bred any litter in the past of any breed, mixed included?
#4. Do you understand what an AKC Limited Registration is and the purpose of it?
#5. Have you ever attended obedience training classes in the past with a dog? How many times did you go, how many sessions were there? Are you willing to attend two full courses of obedience training outside the home?
#6. Who is your Veterinarian? How often did your puppy/dog see this Veterinarian?
#7. Are you willing to sign a contract limiting the ability to breed this dog, including not using it for stud services? Are you willing to get this animal spayed/neutered at the appropriate and contracted time?
#8. Are you willing to keep me (Breeder) informed of health and/or training issues? Are you willing to return this puppy to me if life changes prevent you from keeping it?
#9. Are there children in the house where this puppy may live? How many and what are their ages? How many people make up your family? Do any of the family members have a disability? (This question is asked because a puppy can help or hinder, it is most important to line up proper personality to the needs of the family, a disability does not preclude any family from obtaining a puppy).
#10. Most important for me (Breeder) to know is your daily schedules. Tell me about an average day in your life…work schedule (in or out of house), children's activities weekly. Do both (if applicable) parental figures work full time outside of the home? What are the occupations?
#11. What is the "containment" plan for the puppy when you are not home? What would be the maximum containment time on a regular basis? Do you have a "back up" plan or support system in place if the containment period exceeds what is considered acceptable? Where will the puppy be kept during the day? During the night? Do you own a crate?
#12. Do you have a physically fenced yard (this does not include collared type, GPS/electrical, Invisible, Wagz, Halo)? Do you have an exterior containment large enough for a puppy to relieve itself, run, blow off steam? If not what are your plans for safe adequate exercise? 
#13. What is the preferred sex of a puppy you are looking to purchase? If there is not your preferred sex available are you willing to go with the opposite sex?
#14. Do you own or rent your home? If a rental, will your landlord approve of a puppy?
#15. What made you choose a Golden Retriever?
#16. Where did you hear about Gemstar Golden Retrievers?
#17. Are you willing to wait for the right companion for your family?
#18. Describe your perfect dog, what the personality should be, size, traits you find perfect for your family. If you hike a lot for example. If you prefer a couch-potato. Try to tell me what personality you hope to have.
#19. Are you willing to travel to Tennessee for your puppy? I do not ship puppies ever.
#20. May I have your full name, address, phone number and email address? If you leave out a phone number it is unlikely I will contact you. Please note if it is a cell phone.